Discussion Starter
•
#1
•
This boat:
Welcome to the Mele Makani Web Page
is now titled and registered to Baggett and Sons and is coming to the shop for refit. we will finish the job the owner and offer her. These are the particulars: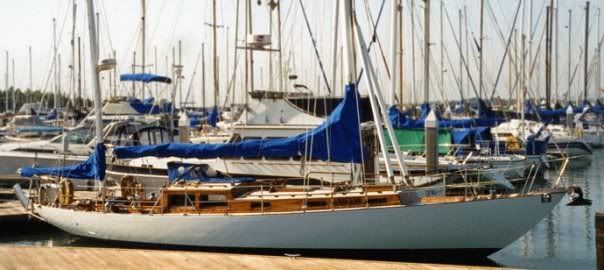 Boat info
Name: Mele Makani
owner/title holder: Baggett and sons Marine Restoration
design: "Tradition"
designed: 1958
built:1964
designer: Halsey Herreshoff/Sid Herreshoff (son/father)
builder: Malorrca Yacht company Peurto Polensa
Trans Pac racer/cruiser
Owner: Cy Gillette
Hawaiain series title holder 65-68
Trans Pac: raced 67.69
Tahiti race 68
LOA: 43` (Length over all, on deck)
LWL 30` (length at water line)
beam: 11`8" (width)
draft: (depth) 5`5" centreboard down 10`
keel: 3/4 swept
ballast:cast iron
Hull:
11/4" thick African mahogany carvel plank with monel X straps throughout
Shear strake: 2"x12" by boat length single slap of African mahogany (bullet proof!)
2"x2" teak frames on 10" centres (four have new white oak laminate sisters fastened with Everdur silicon bronze #14 screw fastened hull
floors: 2"x2" white oak, silicon bronze 3/8" bolted
11/2" thick fiberglass covered mahogany marine ply deck
Cabin coach house: Made from single pieces of 1 1/2" thick teak planks, giant dovetailed corners. (Stunning craftsmanship!)
cabin interior: all teak
Force Ten cabin heater
Force Ten gimbled 3 burner propane stove with oven
Fully rebuilt Wilcox Crittendon Skipper head
Tankage
All stainless powder coated tanks:
4 water tanks total cap. 96 gallons
2 fuel tanks, total cap. 80 gallons
Gray water tank 15 gallon cap
2 fridges, one in the cockpit and one in the cabin, run from a standard 12V rotary compressor/evaporator system
2 74w Siemens solar panels
8` Zodiac inflatable with 8hp Tohatsu short shaft engine
11` W x 8` L drogue/sea anchor
fiberglass 8` hard chine dingy with sail and dagger board
Danforth cockpit compass on Edson Binnicle
Steering: Edson 42" Helm wheel/quadrant cable
Monitor windvane auto pilot steering with emergency rudder
300` anchor rode
300` hurricane rode
RULE 2000 GPH bilge pump (#1 on system)
Danforth cabin mount compass ( nav table mounting)
Danforth cabin mount compass (V Berth)
4 gumby rescue suits
2 emergency ditch bag gumby suits
4 60Lt dry bags
Icom hand held VHF radio
GlobeStar Sat phone in clam shell case
Masts
Main: 52` Aluminum
Main boom: 23` Aluminum
Mizzen: 25` box laminate Sitka spruce
Mizzen boom: 13` Sitka spruce
Sails
Dacron jibs- storm, 100, 120, 130, 150
1x Kevlar A symetrical blooper
1x Spinnaker
2x main sail
3 x mizzen
New
new beds and foam
new cockpit USCG approved floatation foam cushions
new upholstery
new Yanmar Jh32e 3cyl diesel with 1 1/4" stainless prop shaft
New PSS dripless packing gland
New Raymarine integrated nav station: RADAR, GPS, with multifunction readout depth sounder, wind speed, wind direction , with dual display - **** pit and cabin
New Icom M700 Pro SSB radio with Icom AT140 SSB tuner
New Horizon VHF with AIS integrated
New C.A.R.D. collision avoidance system
New ACR 406 GPS EPIRB
New AVON 6 man capsule life raft
New Weems and Plath nav set
New Weems and Plath cabin instruments, clock and barometer
New Weems and Plath small dia cabin instruments for V berth
New all hoses and plumbing
New switches and wiring throughout
New self feathering Kiwi prop with two replacement flukes
New Magnum 2000w inverter/charger battery controller
New house battery bank of 4x deep cycle 6V series parallel
New 1 high amp 30H Engine bank battery
New 450w wind gen set with solar/wind charge controller
New 45kg CQR anchor
New 35kg CQR anchor
New 300 galvanized anchor chain
New 10kg Danforth anchor
New 3/8" spectra pendant cable
New 1/2" thick Acrallite port windows
New 1/4" thick Acrallite interior port windows
All new silicon bronze through hulls and sea cocks
New Engine gauges and display panel
New Meranti marine ply centre board with 50kg ballast
New 600` 1/2" low stretch double braid New England line
New jabsco gray water pump
New Jabsco pressure tank
New jabsco water system pressure pump
New RULE 3700 GPH bilge pump (#3 on system as back up pump)
New RULE 2000 GPH bilge pump (#2 on system)
New gas/fuel leak detector system
New 2 man over board life rings
New 4 Mustang automatic PFDs
We will be going down South to pull the sticks and prep her for transport. I anitcipate having her done and in the water by March 2012.