Discussion Starter
·
#1
·
It's so sad that nobody has anything to say about Lake Huron! I'm Here to stick up for her. If you are in the Great Lakes, there is no better place to cruise than the North Channel, located in the northernmost corner of Lake Huron, starting essentially from the mouth of the St Marys river and eastward.
The North Channel is the stretch of water between Manitoulin Island (the largest freshwater island in the world) and Ontario, Canada. Apart from the Manitoulin, there are literally thousands of smaller to moderately sized island in the region, most of which offer a wealth of natural beauty.
Places of Interest
Tobermory, Ontario
. At the tip of the Bruce Peninsula lays the small town of Tobermory, the self-proclaimed "Dive Capitol of The World" It is build around a short channel and its harbor is big enough to house large cruisers. Awesome town. All around it are very shallow wrecks of large wooden schooners and other various craft from long ago. Rent some snorkel equipment and take a look- highly recommended first stop.
Baie Fine
. Further west and north is Baie Fine, an 8 mile long natural bay lined with fiords with a small cove called "the pool" at the end that cruisers can pull into. Drop the stern anchor and tie off to a tree. Within a beautiful one mile hike you are arrive a topez lake, possibly one of the clearest and most beautiful places i have ever been. It exudes "clean". The dead lake is hundreds of feet deep, a few hundred yards across, freezing cold, and one of the most refreshing swims i have ever had. Uninhabited
Kagawong
. Kagawong is a small town on Manitoulin Island. Besides being a fun small town to visit, it has Bridal Veil Falls, a wonderful waterfall that lives up to its name as a veil.
The Benjamin Islands
are about halfway through the channel. They are a popular spot for cruisers and offer awesome places to tie up to trees and have a campfire on the rocky shoreline of these small islands. Uninhabited.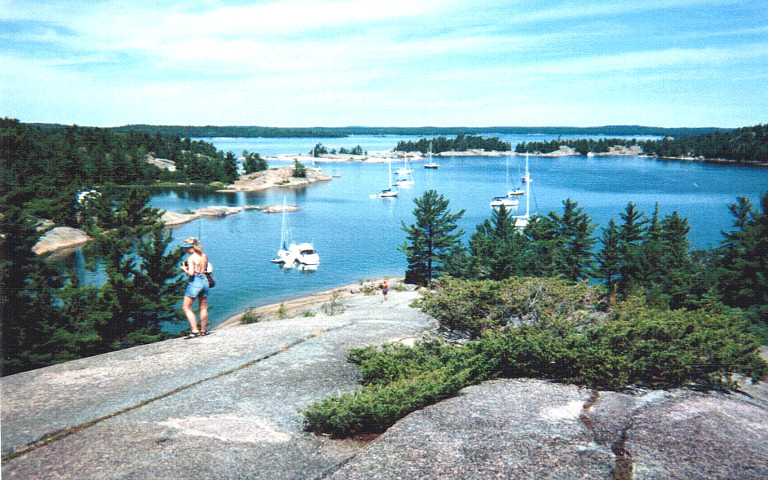 Little Current
. I believe it is the largest town on Manitoulin. at a point where a drawbridge connects Manitoulin to mainland Ontario, you must pass through. Its a fun little town that caters to cruisers and is a good place to stock up on provisions and go to the bar.
There are many, many more places to visit in the area. Remember that all throughout there is amazing hiking to be had. If you start in the east and head west you can have a welcomed return to civilization at the end of your trip by going to Mackinac island. These are some of the most awesome places i have ever been on a boat, or in my life even. When i went through the channel (both times) i was on a 65 foot steel schooner, and was therefore draft-limited in where i could go. With a small cruiser, the peace of mind would be much greater and the places you could go would expand greatly.
If anyone has any questions, has been to or plans on going to the North Channel, or just has any comments, feel free to post!
~Garett