Discussion Starter
·
#1
·
In this forum, we've seen big projects on small boats and small projects on big boats- let's see the cheap projects! Show us what you have done on your boat on a budget.
Here's the rules:
1) Gotta be under $100 US, or equivalent currency.
2) You must have done it yourself. Although, if you found someone to work on your boat for less than $100, feel free to post contact info.
3) bonus points will be given for elegance and ingenuity.
Here's one of mine:
I needed a cockpit table. Well, I, personally, didn't need a cockpit table, but the admiral did, and I need a warm place to sleep, so you can see how the stars aligned on this one. I sussed out commercially available, marine priced cockpit tables and promptly gagged. So, I thought to myself, "self, you could make it yourself for a lot less." One problem. Well, four actually. I have limited woodworking skills, limited woodworking tools, and limited time. oh yeah, and I am cheap.
So, I went to plan "c".
I spent some time eyeballing the cockpit in question: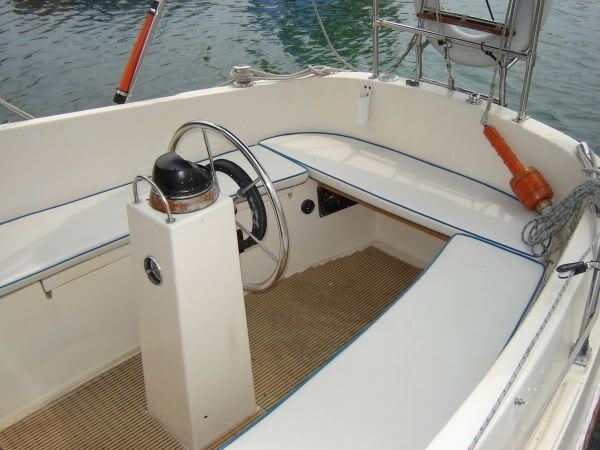 Then I moseyed into action. I bought one of these for $29.99
A frenzy of measuring, remeasuring, cutting, screwing, drinking, varnishing, etc. later, and this is how it finished up:
Let's see yours.