·
You mean North ISN'T up?
Discussion Starter
·
#1
·
Hello everyone,
I have started the renovation / upgrade process on our 1974 Grampian G26 and I wanted to get some other experienced Folks comments on my plan of action. I also want to get feedback on the best way to document this for others, either through this forum with pictures, or with a separate blog. This is a big project so I will try to keep the posts focused and as short as possible. OK, here are my plans for the S/V Elizabeth;
1. Cruise to Cancun from Galveston, Tx.
2. Cruise to Key west, then to the Bahamas from Galveston.
These will not be back to back cruises. Crew for the passage will consist of myself and 1 additional experienced crew. After arriving at the cruising grounds, the crew will depart and my wife and son will join me. She is new to cruising and I want to spare her the passages for now, until she gets bitten by the cruising bug..
OK, I am commencing on the Hull / Structural mods at this time, so I won't be talking much about rigging, electronics, and systems except for the extent that they interface with the current work. I have full funding for all work, and my technical experience / capabilities are as follows
Have or have access to CNC plasma cutter, 100W CNC laser cutter, 40W CNC engraver, Waterjet, Bridgeport CNC mill, South bend lathe, Mig welder, and pretty much any mechanical and woodworking tool you can think of.

I personally am very experienced with paint, composite work including mold making, welding, woodwork and furniture making, all types of metal fabrication, electronics and wiring, and have rebuilt several gas and diesel engines.

NOT so experienced with sailmaking and canvas, rigging, and outboard motor repair.
I say all of this so that you all can gauge my fitness for the planned tasks, or un-fitness as the case may be.
So here are the current refit tasks concerning hull and structure. I got a lot of ideas and info from the atomvoyages site (triton). This list is basically from the bottom up and bow to stern.
Hull;
Haul out and replace ALL through hulls
Complete bottom Job
Re-torque keel bolts and reglass keel joint
Replace rudder bearings / rebuild rudder if excessive shaft wear
Replace all zincs
Install required Garmin through-hull sensors
Starting at the bow;
Create watertight chain locker
Build integral water tank in second watertight zone
Rebuild bulkheads as mast location, going to a double bulkhead with integral torsion beam under mast attach point.
Remove existing head and holding tank and replace with fixed porta potty
Completely paint inner hull
Replace ALL windows. Fore windows will be replaced with opening, doggable ports, and aft saloon windows (Large) will be replaced with thicker material, but the design will remain the same as the original (non-opening). Prevision till be made for attachment of removable external storm panels over these windows.
Cockpit lockers modified to create watertight compartments
Cockpit volume reduced vis the construction of aft cockpit locker
Transom cutout sealed up to create a solid transom. I am concerned with shipping water in a following sea. Will use a outboard bracket for the motor, or perhaps a motor well like this;
So that's enough for now. Really interested in what you guys think about the transom / motor mount mod. I am just a little wary of a 1.5 sq. ft hole in the transom for water entry. You can see what I mean from this G26 stern pic;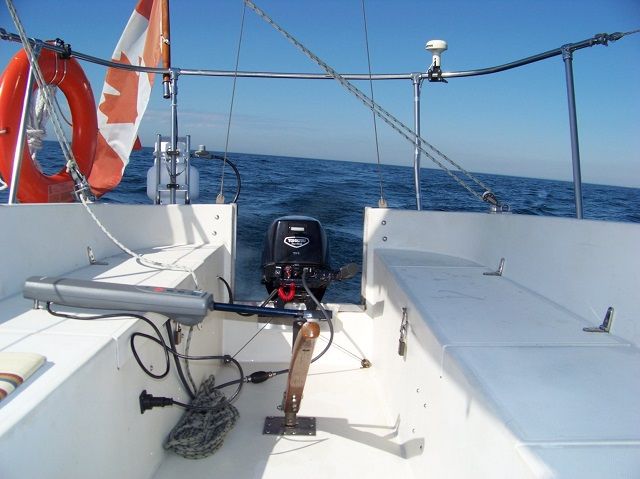 But I may be a bit over cautious here. Also EVERY deck fitting and hinge will be replaced with new hardware in re-drilled and re-bedded mountings with custom fabricated 1/8" aluminum backing plates.
Thank everyone in advance for your comments.