I just used 1" stainless steel tubing to make a rack for my two 140 watt solar panels. At first I had the two aft poles attached to my pulpit and the two forward poles attached to my bimini.
The next tropical storm, when I wanted to take my bimini down, I realized the engineering faux pas I had made at that point. I then re rigged it where all four vertical poles were attached to the stern pulpit. The only thing I don't like is the sag in the two horizontal poles that the panels are actually mounted on. It doesn't hurt anything, I just don't like the way it looks.
In other applications, I had driven a 7/8 tube through the 1 inch tube to make a much more rigid pole and I wish I had done that on this one. There are (at least) two grades of 1" stainless tubing (one with thicker tubing than the other) and the 7/8 tube will fit inside one, but not the other.
The other negative with my mount is that my panels can't be adjusted to more squarely face the sun. But, I have noticed at extended anchorages, how few people who have the adjustable panels, actually continually adjust them to face the sun.
And, as mentioned before, you have to have a controller for big panels like that or they will overcharge your batteries at times.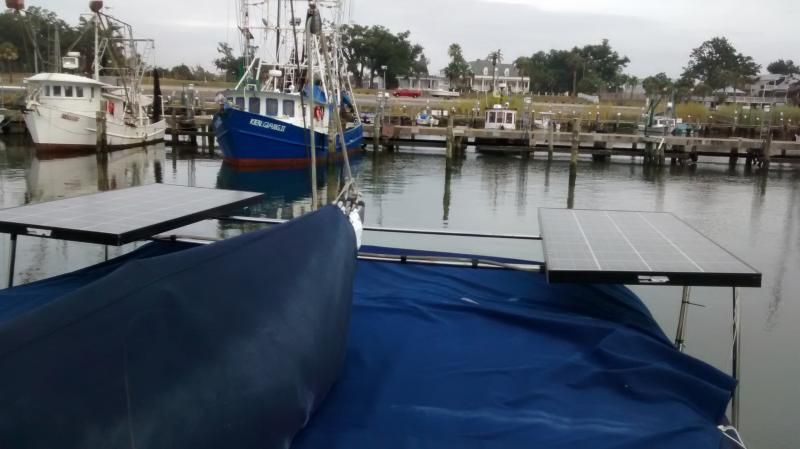 The angle of the shot makes it look like the boom won't clear them, but that's an optical illusion. It may not be the perfect way to mount them, but it was pretty easy and it's worked for me for four years like that (not counting the above noted modification I had to make).