Discussion Starter
·
#1
·
I wanted to share a few pics here of a great friend and very long time sailing buddy - Scooter.
Kris and I rescued a Schnauzer when we were in college. We couldn't hardly put two penny's together (we were literally the starving college kids), but somehow we managed to scrape up enough money to buy a Schnauzer which we had grown fond of from a person that didn't really care much for dogs. That dog... he ended up going everywhere with us. Always wanted to sleep at our feet... followed us around and always kept one eye on us. You go to the bathroom, he would get up and lay outside the door. Go to bed, the same thing. Go out in the yard, he would scratch until he could go out too. Always kept one eye on us, always, from the first day we rescued him. I am sure now that it was his way of saying "thank you".
He was a quiet ole boy. Certainly the quietest and most 'mind my own business' of any dog I have ever known or had. He didn't really ever want to play. He never bit. He never rough housed. He never got protective. All he ever wanted was to lay close to us.
Well, we graduated from college and believe it or not, he survived all the long nigths of study and all the partys. Not long after, I bought my first boat. It was a Catalina 250. He and Myra (she passed long ago) were truly the first ones on her. Here is scooter in the background with the red harness, Myra with the blue.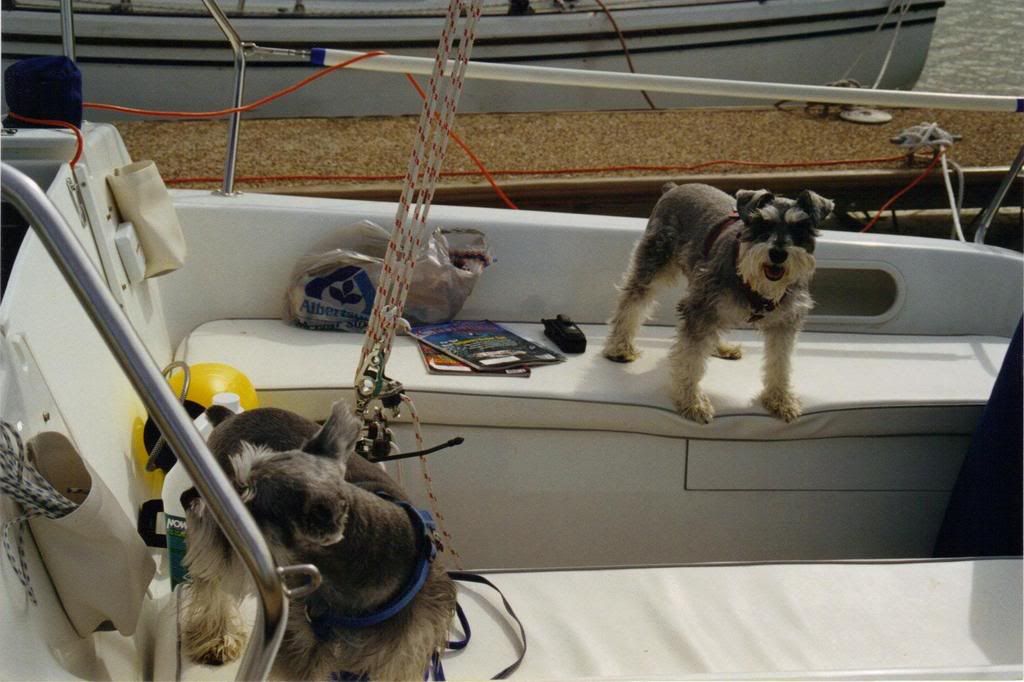 I tell you - Scooter truly came to love the boat. LOVE IT!!! He always wanted to go. His favorite place?? In the Dink of all things!!!! We have logged hundreds of miles with that crazy dog riding behind us in the dink!!!! He would whine until he could get there. He could go for dink rides all day long. A few years later, we ended up buying the 380 (after the 320) and living aboard. Ole Scooter... he was in heaven. He would always sit at the companionway or walk the cat-walk, or anxiously sit at the base of the steps waiting for us to get wherever we were going so we could go on a dink ride. And if we did not get there soon, we had better find a way to get him in that dink so he could travel in style behind us!!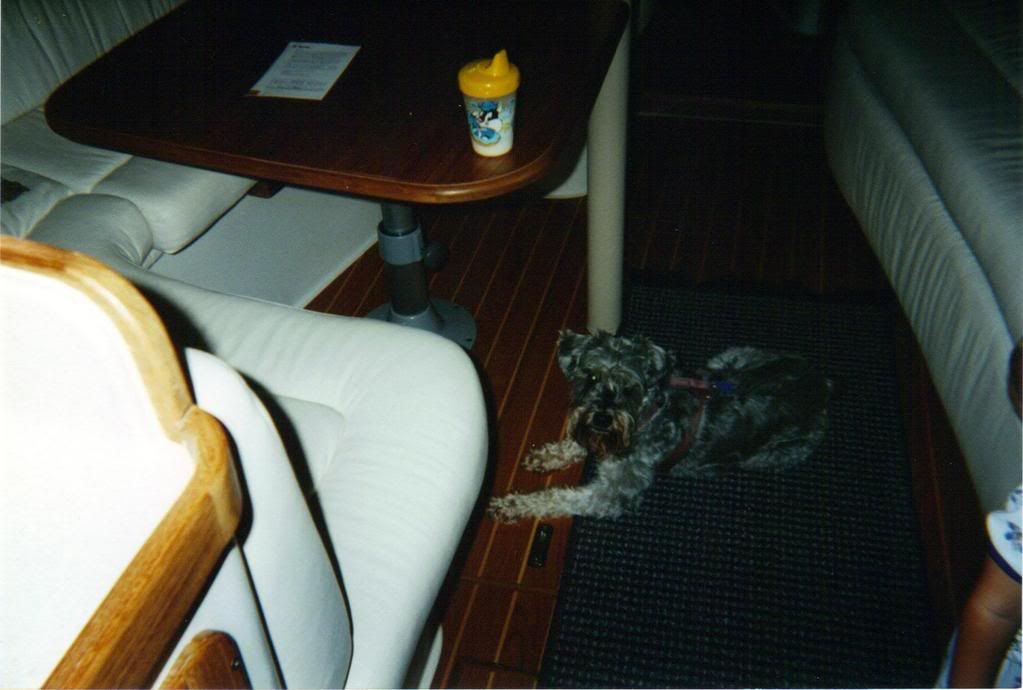 We ended up moving to east Texas some years later, after LA and cruising. We bought a bunch of land. Now, any other dog would have been in heaven, running the fields all day or with the countless smells, but Scooter never was really happy. He always seemed a little down. Well, we loved the land and still do. But we could not live long without a boat. And so, we bought our Catalina 400 - the boat we have today. When we bought her, Scooter was again the happiest dog in the world. It seemed that was the piece that was missing from his life. He was always wanting to go sailing and get in the dink. And no matter what, or no matter where, he was always right there keeping an eye on us. True, true story: If it came between laying on a soft bed in the Airconditioning by himself or laying on the hard sole in the cockpit where he could keep one eye on us, he would be in the cockpit in a heartbeat!
Well, Scooters love for sailing never died, but Scooter got old. He was around 15 or so today. He got to where he could not hardly walk, or go to the bathroom on his own, and certainly could not do any physical exercise. He was in pain constantly. I had something I needed to do.
The timing was not good. Glen had surgery last Friday. We still do not have the results. Chase was having his Taks test (pass or fail 3rd grade) that Tuesday. Glen had to stay house bound... but I still needed to do one last thing: I needed to take Scooter for one last sail.
It was freezing cold (literally) and was gusting in the 40s. I put up the enclosure around the cockput to try to stay as warm as we could... but it was still freezing. I knew I would take off a chunk of gell coat and a nice long strip down the side of Sea Mist getting her out of the slip (which I did)... but I didn't care. That could be fixed. We weren't going to let anything stop us. And off we went:
One last sail. THat was all the old man wanted. He has put more hours on a sailboat than most of the people I know times ten - and this weekend he put on a few more. We wanted to get the dink out, but I was concerned that if he fell in the water he would freeze to death before we could turn around. It was just too dangerous. I wanted his last sail to be comfortable. He still looked back, always waiting for me to pull out the tender so he could hop in. But I think he understood that we couldn't.
We had to put Scooter down about an hour ago. Age had caught up with him. Most dogs, they will go to heaven and run wild in the fields. Some will lay in the clouds using them as a couch. Some will have endless meals. Some will have endless tug-rope or frisbee. Scooter, even as I write this, he is in a dink, behind a sailboat, free at last to go where he wants without having to wait for me or Kris. But I promise you, he is still looking down, not too far, keeping an eye on us. And I have no doubts that when we go to sea again, he will be there, watching out and riding behind. Always, one eye on us.
Goobye my old friend, the best dog and friend we have ever had.
Brian