Clearing into New York city (or New Jersey)
is now one of the most geographically difficult in the whole world!
There is no direct public transport. Both locations are so far flung it would be economic suicide to go by Taxi. Neither office can give you advice on how to get there apart from 'by car' or 'by taxi'.
BUY a USA phone SIM card first
so you have internet and UBER 
You need to go to 2 offices:
Immigration, first
, for the passport stamp. All crew/passengers must go.
Customs second
, for your Cruising Permit. Just the captain/owner goes.
Both take ½ day EACH from 8:30 am till about 2pm. You could do both in a day but you would need to be out of bed a sparrow-fart and not home till 6pm. But if would be achievable.
Immigration:
Port Liberty Cruise Ship Terminal
14 Port Terminal Boulevard
Bayonne, N.J. 07002-5038
Ph (201)4362850
Lat & Lon 40.665573 N 74.0739899 W
Google Maps
https://www.google.com/maps/place/Cape+Liberty+Cruise+Port/@40.665573,-74.0739899,16z/data=!4m5!3m4!1s0x0:0xf88fd20c29c0071f!8m2!3d40.6648844!4d-74.0710902
By train:
• Take the PATH Rapid Transit System train from Manhattan to Jersey City or Hoboken.
• Outside the PATH Station, take the NJ Hudson-Bergen Light Rail train to Bayonne.
• Get off at the 34th Street Station in Bayonne.
• You are now directly across Route 440 from the Peninsula at Bayonne Harbor, which includes the Cape Liberty Cruise Port.
• Book UBER or Call one of the three Bayonne taxi cab companies to drive you to the cruise port, which is about two miles east of the Light Rail line.
•
Returning: I had to hitchhike
as there was no internet to get UBER. But maybe the Immigration guys will call you a cab.
By bus: (I wouldn't do this way)
• East Coast regional Motorcoach Program (a service provided by Entertainment Tours) - call (800) 310-9900 for reservations or book online. Please contact Entertainment Tours for rates and pick up locations.
• From the Port Authority Bus Terminal, take the 99S bus to Bayonne.
• The 99S bus travels along Kennedy Boulevard into Bayonne and stops on request every three blocks.
• When you reach 33rd Street and Kennedy Boulevard in Bayonne, you will be at the closest point on the bus route to the cruise port.
• Call one of the three Bayonne taxi cab companies to drive you to the cruise port, which is about three miles east of Kennedy Boulevard. (UBER is better/cheaper, but I had to hitchhike back to Kennedy Bvd.
Below is the Cruise Ship Terminal. At the far left as look at is the doors you need.
(Below)The doors to the left are open. Go in and see a very small sign on an internal door saying Customs Room 100. Bash on it. Or phone on arrival.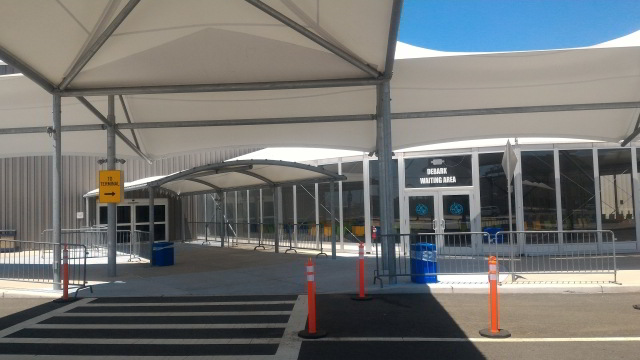 Customs
1210 Corbin Street
Elizabeth, NJ 07201
(201)4430500 Ask for Cruising Permits.
Lat and Lon 40.684339 N -74.1643135 W
Google Maps
https://www.google.com/maps/place/Maher+Terminals/@40.684339,-74.1643135,17.2z/data=!4m5!3m4!1s0x0:0x3862d3d810ef2553!8m2!3d40.6839509!4d-74.1631222
This is the building you are looking for, but the side away from the road. It looks like you are driving into a huge shipping container port. You are, but your turn into the carpark.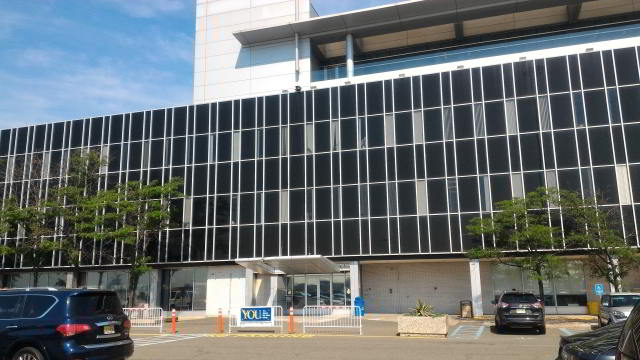 When you get inside you get a security ticket and then you just wander around the building! No signs. Ridiculous! I finally got led to the office. Could have been lost for hours.

Bus/UBER
Subway to Times Square/42nd Street and walk underground to the Port Authority building in Manhattan.
Walk through the Port Authority to the last bus company window and buy a Return ticket for the
DIRECT bus to Jersey Gardens
. ( It's a HUGE mall that's well worth an hour on its own.) Busses every 20 minutes early but fewer in the afternoon. So go early. **REMEMBER/SAVE the Drop Off Location as you need it to find the bas back!!**
Jersey Gardens: Google Maps
https://www.google.com/maps/place/The+Mills+at+Jersey+Gardens/@40.660493,-74.1737161,16.63z/data=!4m5!3m4!1s0x0:0x342ea3cb57d4d522!8m2!3d40.660276!4d-74.1713968
From Jersey Gardens there is
no public transport
and the walk is along a huge truck motorway and not easy as theres few sidewalks.
So get UBER (or Taxi) from Jersey Gardens ($6 UBER). There will be an UBER working out of Jersey Gardens.
The difficulty is getting back: You will be in Customs for 30+ minutes. When you get outside UBER will only show cars in Newark Airport which is close but across the airport and a massive motorway, so the UBER cars get freaked out and cant find you. I had to walk 2 miles till I could get an UBUER from Jersey Gardens.
Maybe get a Customs person to phone you a Taxi… but again, will they ever find you?
From Jersey Gardens I hope you saved the bus drop off location. Go exactly there and a bus will scoot by and off to Manhattan
Mark
