..the next Shakleton??? LOL
Allright that was just a bad joke really but I received an e-mail through the grapevine of crew wanted for the Half Moon to sail her to Rhode Island.
text of e-mail....
February 24, 2015
AHOY!
THIS IS SHIP HALF MOON CALLING...
A MUSTER CALL FOR EXPERIENCED CREW
IN BOTH AMERICAN AND DUTCH WATERS
1. EXPERIENCED SAILORS FOR USA
WATERS
We leave Verplanck under
possible arctic conditions
before mid-March towards
farewell celebrations in New
York City.
The Half Moon will then
participate in a feature
movie, shot in Boston,
filmed from helicopters and
follow boats.
Rendezvous in Rhode Island
with transatlantic transport
vessel.
Crew willing to participate
in movie as extras must
muster soonest as sizes must
be supplied so that their
costumes can be made.
Usual mess fee of only $20 per day
payable to the Half Moon for three
square meals a day. Extras will
receive a stipend of $150 per day
from the film company. Expect 2-3
days of filming. Estimated length
of sailing 20-30 days. Shorter
legs available.
This will be a historic event,
like the 1609, 1909, and 2009
adventures. Be part of it!
The Half Moon will be skippered by
USC master mariner Mike Abegg with
decades experience as captain and
chief mate of a fleet of vessels
ranging from many 19th century
schooners and 17th century
historic ships to classic tugboats
and a myriad of sailing vessels
ranging up to 179 feet. Skipper
Abegg is also a chief safety
instructor, and manages the fleet
of the South Sea Seaport. He is
well acquainted with many who have
sailed on the Half Moon.
MUSTER NOW!
LIMITED AVAILABILITY. DETAILS ON
APPLICATION.
Reply to:
[email protected]
with telephone and qualifications
Before you send your resume' --note that the e-mail states the Half Moon will be "leaving before mid March" in "possible artic conditions" - so that's next week or the week after. Not me!!! Here are some current pics of the Hudson -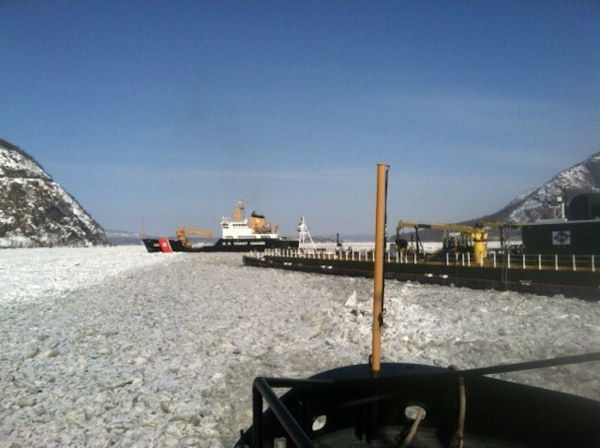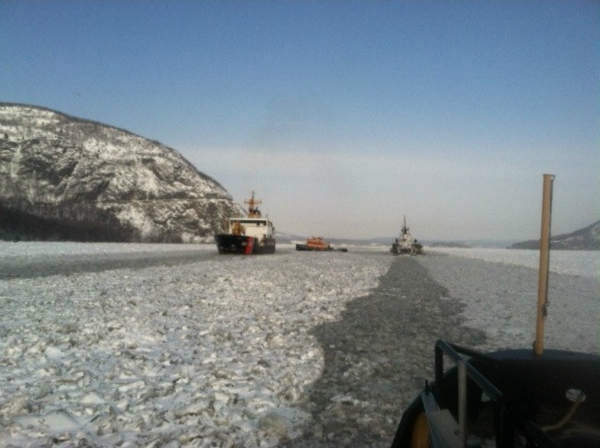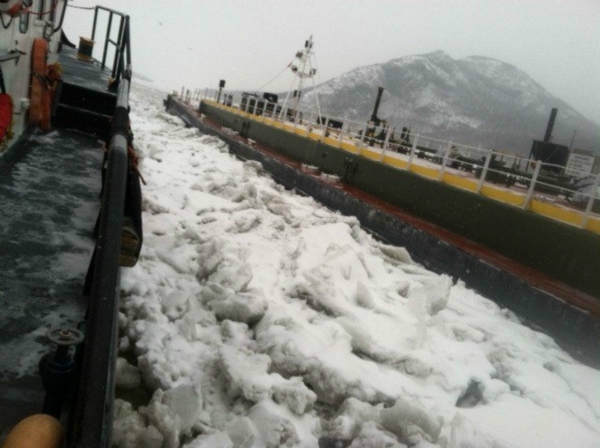 I have no connection to this ship and this event, just thought it would be of interest. Personally, I would love to volunteer on the Half Moon but not in an icy river where right now numerous commercial tugs and ferries are stuck waiting for a cutter to come and break them free.