·
Learning the HARD way...
As bilge pump switches were mentioned above...a lot of people seem to like the Ultra Pump Switch Jr...it is pricy, but it appears to mount onto the bilge pump itself. I don't have any experience with this as my float switch still works well (they either seem to fail quickly or last a while)...but I will likely switch to one of these at some point...
I have an Ultra Bilge Pumpswitch JR, and would not go back to the Rule float switch - ever.
The Ultra switches have a float that works in conjunction with a magnetic reed switch, so that they never clog, and under normal circumstances, should never stick. It fastens to the bilge pump, and does not require fastening to the bottom of the bilge. (How many of you have put holes in your bilge so that you can screw the bilge pumps to the bottom of your bilge?) In addition, they have an LED embedded into the top of the switch, that is illuminated if there is power to the switch. This is a very simple idea, draws almost no current, and makes verifying the operation of the switch (I hesitate to call it "troubleshooting") a breeze.
I see that Ultra Safety Systems has just introduced a "Mini" version;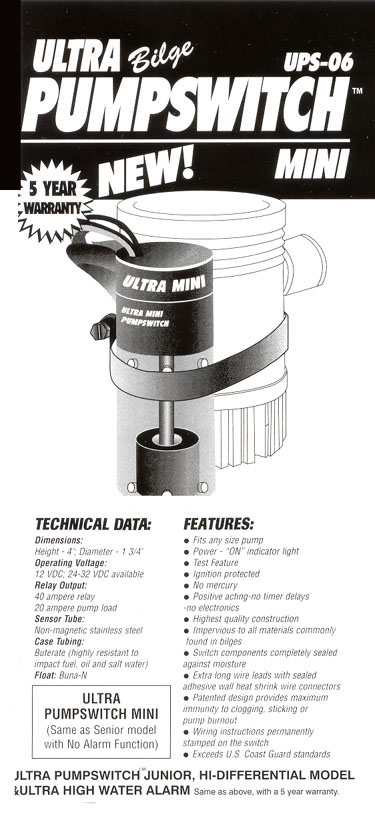 If one of these will fit in your bilge, I highly recommend it.