When we bought Irish Eyes we had a collection of falling apart flimsy plastic framed screens stuck in the back of one of the cabinets. One night of bugs and I knew that had to change. We have the original oval bronze opening ports which I think came from White Water Marine. There are six large ones and four small ones. They look like the ones on the White Water Marine web site.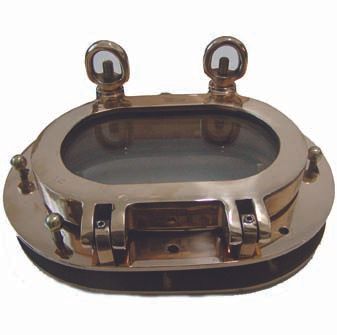 We also have three Bomar opening hatches; two large and one small. Then, there are the companionway opening and the doors to the anchor locker. (Yes, I watched mosquitoes come through the the louvers too.)
The anchor locker doors are now permanently screened on the forward side with fiberglass screen held in place with teak strips.
The small Bomar hatch in the head is framed, and stock white window screen hardware from Lowes works for it. The screen is held in place with two brass turnbuttons.
I jig sawed out of 1/2" plywood frames for the two larger Bowmar hatches. Grooves are routed in one side for the rubber spline that holds the screen cloth in place. They are stained and varnished. The frames wedge into the bottom of each hatch. Friction holds them in place.
The bronze port screens are similarly done except since there were several to make, I made a pattern and cut them out with a router. In the photo one is resting top up and the other is resting bottom up. You can see the routed groove that the screen spline fits into. They have velvet ribbon glued to their edges to keep the varnish from being abraided by the rough metal of the ports. Brass eye screws serve as knobs to grasp the screens when putting them in or taking them out.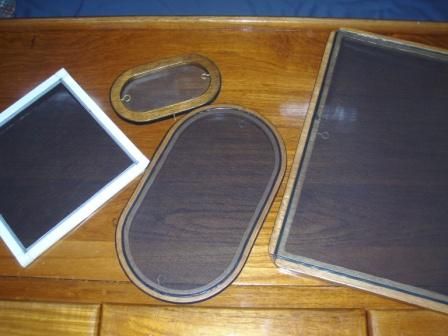 The companionway has one teak framed screen that drops in where the hatch boards go and another that rests in the top opening. These two screens and the two for the large Bomar hatches are stored overhead in the vee berth held in place with bungee cords attached to the screws that were already there.
On buggy nights all the screens go in. The bugs stay out, and a little breeze comes in. On bug free nights all the screens come out, and all the breeze comes in.
Bill Murdoch
Irish Eyes
1988 PSC 34