Discussion Starter
·
#1
·
I have a Facnor SD furling system for my headsail. I am having a problem with halyard wrap WITH THE HALYARD DEFLECTOR.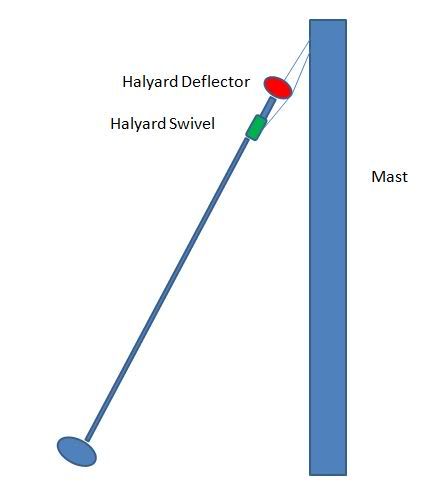 The halyard itself is attached to the halyard swivel and then has to 'lean' on the halyard deflector on its way to the mast (see drawing). That is, it is NOT a straight shot to the mast for the halyard. This seems very wrong as it has to promote chafing on the halyard (though it didn't look like it when I drop the gennie this past weekend).
Only recently has the halyard seem to somehow get 'caught' on the deflector and attempt to wrap as we are trying to deploy the sail. It never happens when we are furling it. The deflector itself doesn't appear to have any really rough edges.
So, any thoughts? Loosen the halyard? Spray the deflector with McLube? Get a smaller halyard deflector (though I don't know if I can ... I've looked at the installation manual and it appears that this is indeed how it is supposed to be setup).
Thanks in advance for any ideas.