Discussion Starter
·
#1
·
Hey guys... hope all is well. I'm looking for some advice about plumbing for the exhaust on my Universal M12. I had planned on replacing this stuff last year as it was in obvious need of attention but that slipped down the list as i was working on other things. You know how it goes when working on a tight budget. Anyway... I have located and ordered the replacement exhaust elbow made by Onan. Interestingly, the part number that was cast into the side of the original part has been changed over time and is totally different now. Original number was 170-2834... the new number (for the same size part) is 155-1058. I eventually located it at Coastal Diesel Service in New Bern, NC.
Home
So... on to my question:
What is the correct type of pipe to use from the exhaust flange to the exhaust elbow?
I have read that i should use black iron but that i can also use galvanized steel. The thoughts about using the galvanized steel was that there would be a period of time where it would need to "cure" and that it would give off an odor until it was broken in. Other than that it seemed to be the opinion that galvanized would be fine. What are your thoughts? I've already purchased galvanized because it was readily available but will exchange it if i find any major reasons that i should avoid it. Thanks for taking the time to read... any advice is welcome.
Original piping, elbow...
New galvanized piping...
will this be ok?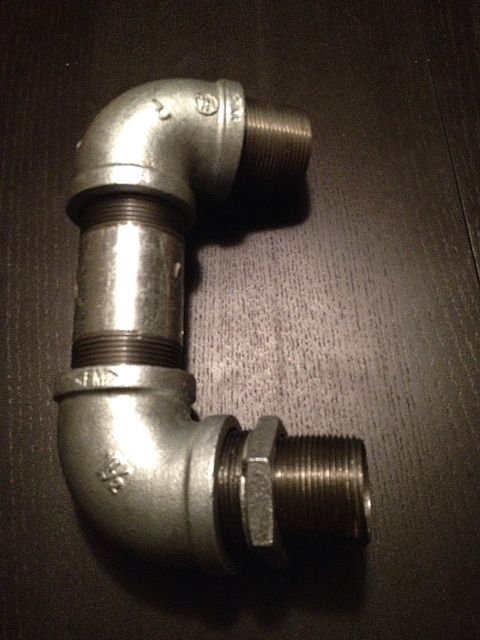 Old piping and exhaust elbow removed. It was a messy job! I had to disconnect the heat exchanger for clearance and between the spilled coolant and the carbon, it made a huge mess. I do my best to keep things clean but obviously have some cleaning and degreasing to do here...