Found this interesting circuit that uses a few $us worth of radio shack parts to protect equipment from reverse polarity. Please don't ask why I might have been searching for said circuit (I let the magic smoke out of a power supply today).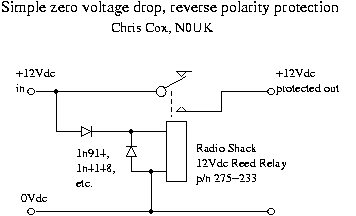 Source:
Simple Reverse Polarity Protection
Nice circuit, only adds a current draw big enough to power the reed relay's coil, which is next to nothing, and it protects your expensive gear from reverse polarity according to the author. Not bad for a few $us worth of parts and a few minutes time, and if one of the components of the circuit fails while underway you just cut it out of the circuit and continue on. Cheap insurance.
It's for positive earth so I suppose it has to be modified slightly for negative earth.
Edit - No, I guess you don't have to modify it at all.