Discussion Starter
·
#1
·
Upon review of some of my sailing pics I have come to the conclusion that sailing is quite a headgear intensive activity.
Depending on the circumstances a different hat might be required while on or around the boat. Unlike gas-holes who generally get away with backwards ball-caps or stars and stripes 'do-rags', sailors seem to have more eclectic tastes in our hattery.
Here are some examples:
This is the hat that I wear most often while underway. I like it because it has a wide brim. It also has a strap that prevents it from getting blown off. This is the style that you see worn by many sailors. If I feel cocky I can snap up one side of the brim for that 'bush veldt carbaniers' look. I can snap up both sides of the rim and turn the hat sideways - instant Horatio Hornblower. The model I have also has a roll-down neck protector a la French Foreign legion - tres bien!
When things get wet and wild, nothing beats the old Sou'wester. It keeps my head warm and dry and channels the water off my neck. I happen to think it's quite fashionable too.
Once the anchor has dropped, or we're tied up at a dock, the old ball cap gets dusted off. I've lost a few overboard while underway, so now the ball cap is reserved for the more sedentary aspects of sailing.
For those private moments, or when I'm feeling nautical, out comes the captain's hat (notice the scrambled eggs). I got this one as a kind of joke. Honestly! I never wear it. Except once (maybe when this picture was taken) I was wearing it below and forgot that I had it on. I came topside and walked along my dock. I could feel the hard glares coming from the 'real' sailors. What a poser!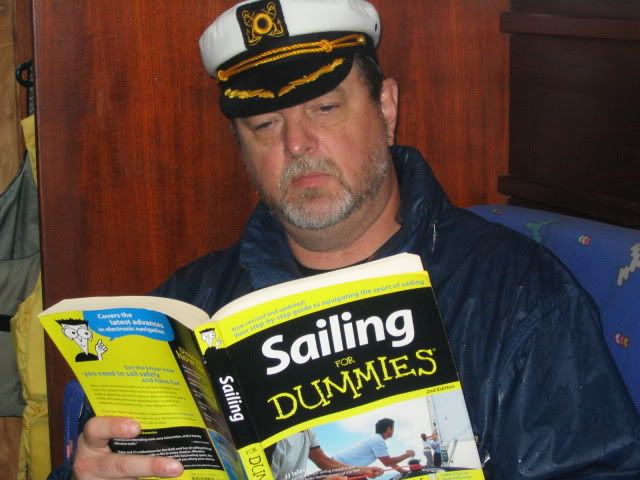 Let's see some photos of you, or your crew sporting your favourite sailing headgear.