I have sailed with a lazy bag for the least 4 seasons - wont go back..
Used to have lazy jacks and sail cover, while cruising we now cover the sail when not in use.
These comments are based om my setup - I know there are lots of different designs around.
It does not interfere with reefing lines or outhaul.
It can be stowed along the boom if I will improve air flow around the lower part of the sail
My main is loose footed and the lazy bag sits in the luff rope track on the boom.
There is a batten on both sides to stiffen up the cover, I can also roll the cover onto the battens to stove it on the boom.
The lazy jacks are integrated into the system, there are 4 attachment points on each side made of strong webbing.
I have used SS rings to link the lines (less friction than rope/rope, cheap, noting to chafe the sail)
The bottom part of the cover is made of some mesh , except for aft part where it is open and only attached with webbing straps and slugs.
The cover are held together around the mast with webbing strops.
In this photo the cover is rolled onto the batten and secured to the boom.
The lazy jacks are led forward and one of the SS rings are visible.
Her you can see the hook used to hold the cover in place, notice that the hook opens downwards. You can also see the mesh in the bottom of the bag.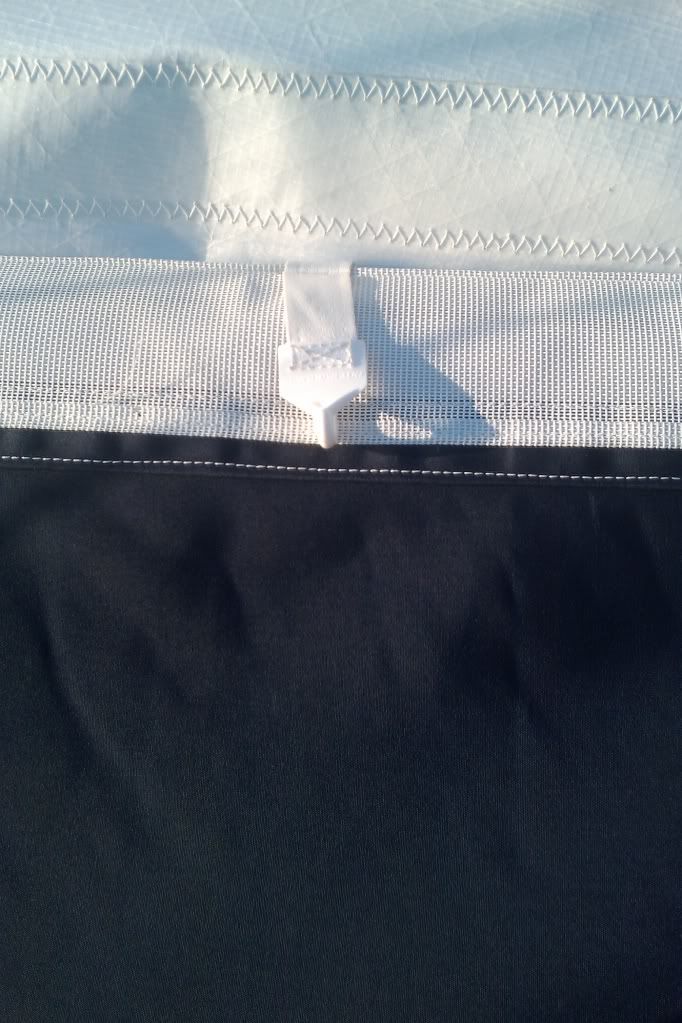 This is the opposite side withe the eye and the bungee loop.
At the end off the boom no mesh only two webbing straps with slugs holding it in place while giving room for reefing lines and outhaul.