Discussion Starter
•
#1
•
Today I started the BIG job of replacing my teak decks on my 1981 Cheoy Lee ketch. I just did a small section of the cockpit near my port jibsheet winch. I'm using
this post
as a guide. It took four hours from getting my tools out until the area is mostly clean.
The first step was removing the winch and two cleats from on top of the deck.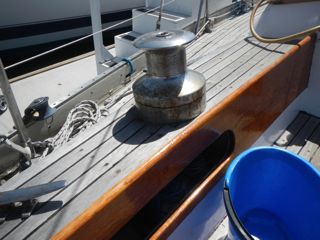 Here's the deck before removing the deck hardware.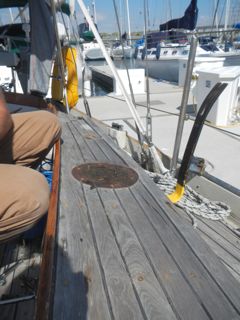 They're off now. Then it was on to the wrecking bar and mallet to pry up the old teak. The screw heads stayed behind, so I used a flat tip screwdriver and vice grip pliers remove all the screws.
Next I scraped off the black bedding compound that held the teak in place. Most of it came up easily using a Fein Multimaster scraper tool.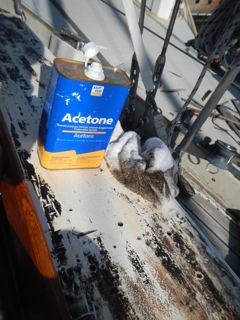 Next I used acetone and a rag to remove the residual bedding compound. I wore nitrile gloves, but the acetone ate through them so tomorrow I'll be getting better chemical protective gloves. I switched to using a scotchbrite green scrubber with acetone and that helped the gunk come up quicker.
At the end I wiped down the surface and drilled out the hardware mounting holes, then reamed them out using a dremel tool. I'll rebed all the hardware later using
this guide.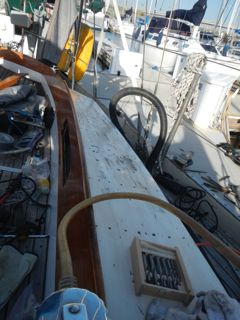 Now the deck is clear and is ready for the individual screw holes to be reamed and the holes to be filled with epoxy.
We have guests coming August 10 so my goal is to have the decks done by then. I guess I need to get to work!