One of the most social things you can do cruising is to sail with a group as a flotilla. Plenty of socializing, casual impromptu racing, kayaking, swimming, hiking etc are all things that work well with groups large and small.
(Note: this post has been edited based on some great suggestions in subsequent posts. Thanks all...)
We do a lot of this as we often sail with friends, in groups of 4 - 6 boats, and with our very active cruising club with up to 16-18 boats at times.
Rafting is not for everyone, some will consistently choose to find their own spot, but in a properly selected location this is a very social way to end the day or even to spend a layday or two to enjoy boat hopping and other off-the-boat activities like picnics, happy hours ashore, hikes and so forth.
Here are some things we consider and do to make rafting as trouble-free as possible.
Pick the right location... minimal breeze and current, especially across the boats, is best. If some breeze is inevitable, then try to orient the raft to that it's either on the bow or the stern. If over the stern you'll obviously be in a shore-tie situation in which case the lines ashore will take most of the load. If over the bow then you're going to be in a bit of a lee-shore situation, but with the many anchors out this should not be a big problem, and in any event if big breezes are likely than rafting should be abandoned - in daylight rather than 3 am in that big breeze.
We also generally only raft if there's opportunity to tie ashore.. a free swinging raft is problematic if more than one anchor is down if/when the breeze clocks or tide turns. Stern anchors help here, but you may end up with all the load on stern anchor(s) that are usually not anyone's primary ground tackle. One thing we have yet to try is a "Sunflower" raft.. generally our bays are too small and deep to make this practical.
Laying out the raft properly will go a long way towards everyone's peace of mind and sound sleep. Anchor lines and shore lines should be oriented in a way that will tend to pull the boats apart rather than force them together (see drawing below).
All lines between boats should be proper nylon (stretchy) lines to avoid overnight 'gronks' and short fetch-ups in the event of some wave action. If the lines and anchor rodes can be arranged as shown above, fenders actually become almost redundant, you can adjust the distance between boats to make it a reasonable step across, but the fenders should not be squeezed at all (also minimizes noise)
If there is to be some rolling among the boats, then tying fenders on horizontally between the boats will quiet things down, the fenders will roll rather than slide on the hull if they do touch, better for your paint/wax job too.
Use long spring lines between each boat too, to make sure that the boats remain in the same relative positions at all times, ensuring that fenders are in the right place when they're needed, and to help keep gates and cockpits aligned for easy crossing and communication.
EDIT: It's also important to ensure that if the boats roll the rigs cannot collide... boats should be arranged with that in mind too.
Use the most substantial boat as the 'anchor' in the middle and try to build the raft out equally on either side. We don't always drop an anchor from every boat, but certainly every other one. Same with stern ties... it's not generally necessary to put lines ashore from each boat, again alternate or even fewer if conditions are settled.
Rafting large powerboats and sailboats can be a bugger... the flare and freeboard of many powerboats tends to put their decks at mid-stanchion height making fendering off a problem (and avoiding stress on said stanchions) EDIT: paying attention to rig clearances against high houses is another issue here...
EDIT: Raft etiquette... generally we don't cross through a cockpit without an invitation to do so. And like any good neighbour anywhere you should be mindful of your music and noise level, esp with cockpit speakers. Should you need to leave the raft, be sure that doing so will not compromise its integrity, if so be sure there are others around to reconnect the remaining boats.
Some of our rafts get so big that if you want to visit another boat at the other end it's much easier to use the dinghy!
Here are some examples of rafts we've built over the years.. some small, others not.
Nothing like a Father/Son raftup!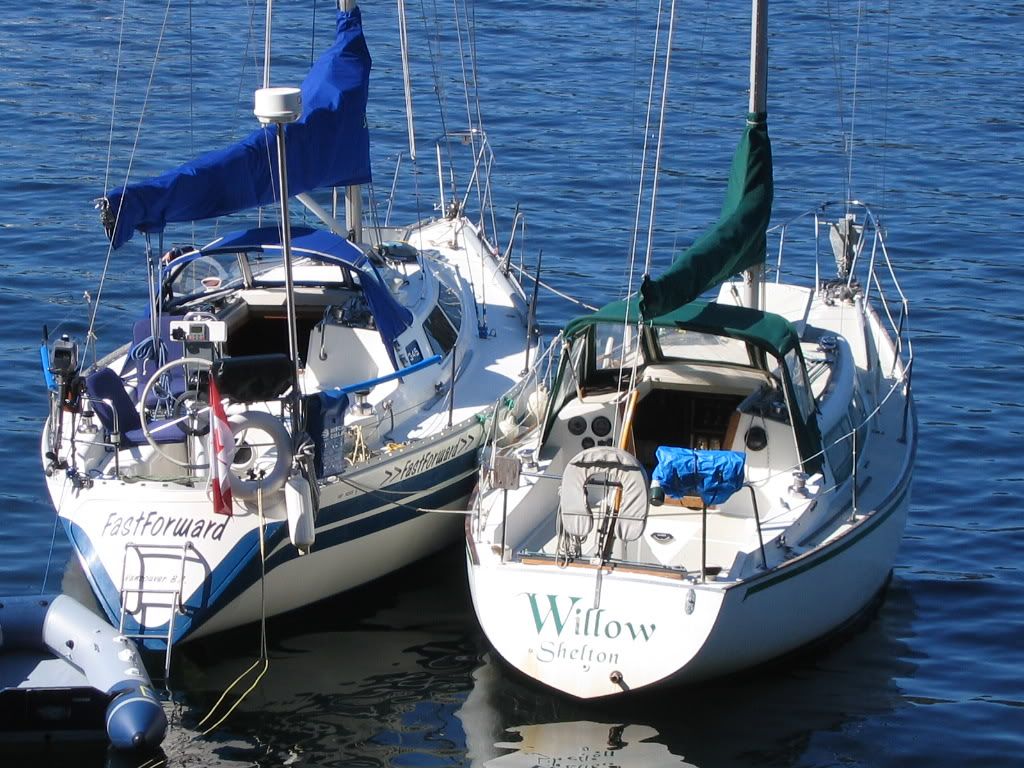 From 2 boats to 4!
(kinda)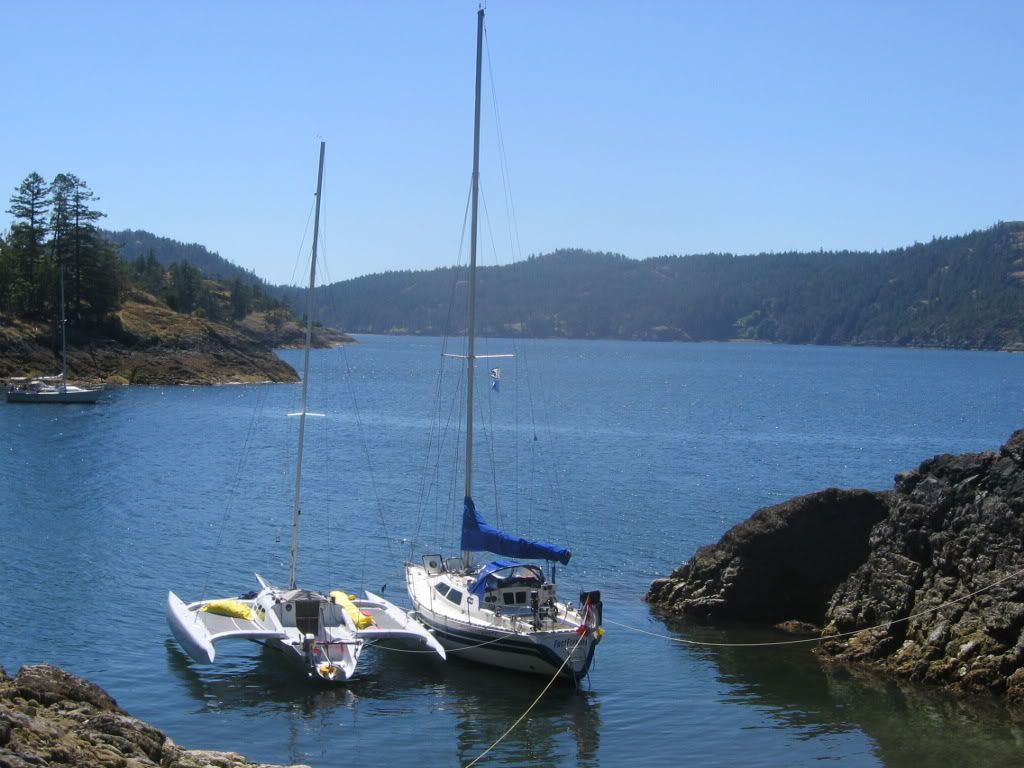 Larger examples: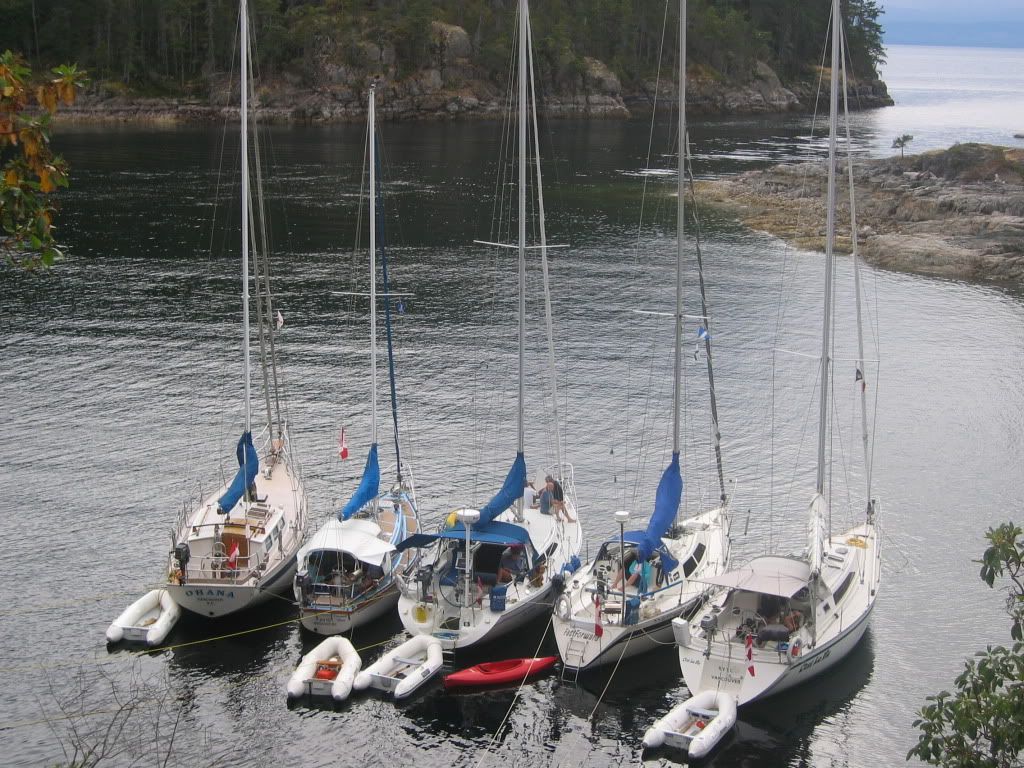 Interesting comparisons of stern sections/transoms....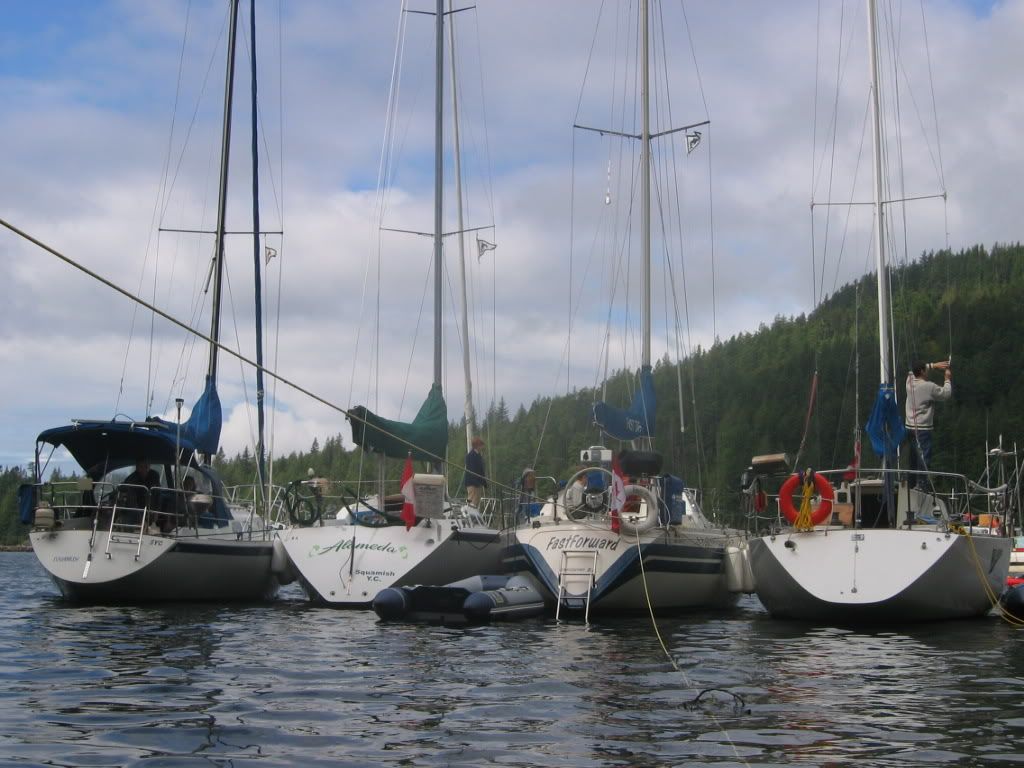 And the largest so far... I think at one time we were up to 31 boats..