Discussion Starter
·
#1
·
Sorta thought Spring might never come up here in the Northeast (Lake Champlain). I watched the ice go out just last month. But, Spring did come, and it's been a good one. Lots of temps in the 70s and dry days over the past couple of weeks.
Got the bottom painted a couple weekends ago. It was a slap-it-on-in-under-two-hours kind of job, but hey, who sees the bottom anyway.
The yard dropped me in last week, and on Saturday I fired up the diesel (always a little anticipation there) and off I went.
Wind was from the south at about 5, and I needed to go south, so I just motored the 12 miles to my mooring ball while scrubbing the decks and drinking beer. I figure that's about the most motoring I do at one time all season, and it's good for the Yanmar to run a bit. My little 1 gm purred the whole way. Love that 35 year old engine.
Ah, what a sight. (I won't go through the mishap of losing the halyard for my furler 2/3 of the way up the mast, and miraculously snagging it with a jury rigged hook on the end of an unsteady 25 foot telescoping pole.)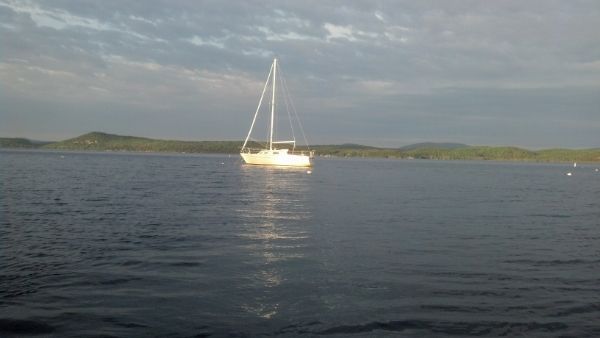 Looking forward to another great season on the water.