Having received countless pm's asking me what is an "Old Shoe", and tired of explaining, here is the definition….read it carefully, will not write it again..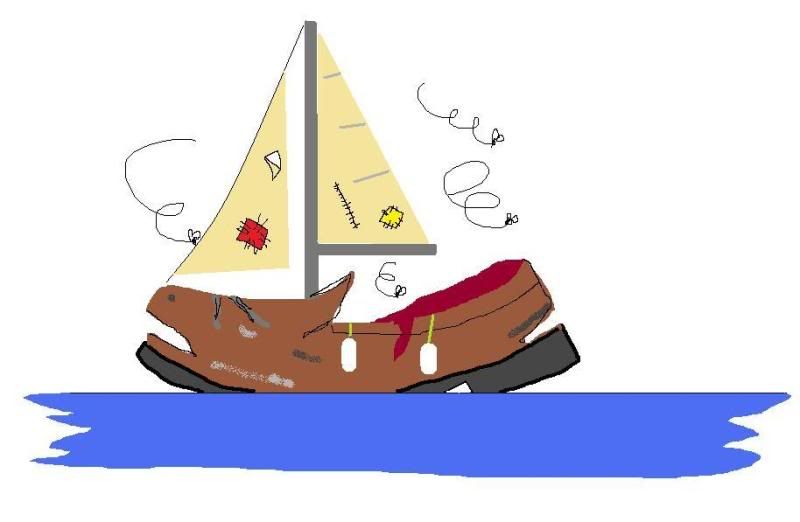 The Old Shoe:
Characterized as the only sail boats (?) whose apparent wind moves aft with increase in boat speed, (because they sail backwards), the Old Shoe - that may come in recently newly made hulls - (hence not necessarily built in 1342), as some Yacht builders found a niche market for them, especially among Sailnet members, the Old Shoe has, normally a displacement with more zeros than Bill Gate's bank account. Who cares?? They weren't made for sailing anyway..
Everyone knows if you don't own an Old Shoe ..you're not a sailor – especially here at Sailnet - …and every Old Shoe owner, is given, upon buying it, a complete guide with terms, pre made wording and sentences on how to trash "plastic", Tupperware" and other glass boats (note: Old Shoe owners normally forget their boats are plastic too, but that's another story), in public forums..
At the end of the "Hate a real sailboat guide" book provided, is a list of words like Beneteau, J boats, Catalinas, Dufour, Hunter, Dehler, etc.. (real sailboats designed to propel themselves by wind)…that any Old Shoe owner must trash at least 52 times a year in public forums, live aboard marinas, lake sailing clubs and other sailing dedicated places such as Wal-Mart, West marine, and the Bronx Zoo.
That gives them points, provided by the Old Shoe Owners Society, (a group of hard core sailors from Arizona), that can be converted to true sailing items such as BBQ's, microwaves, bow thrusters, and 3 inch thick windows…
Back to the Old Shoe,
Because of the displacement, normally over 22.000lbs, for a 32 foot boat, the Old Shoe needs extremely exaggerated Head sails, (the more the better, looks "chique", so often have 2 or 3 head sails), that in turn prevent the boat from sailing anyway..
The Old Shoe, is normally a good power boat, as it does not move in winds bellow 15 knots, and above 20 it's already over canvassed, so bellow 15 needs a diesel, above 20, needs a diesel…
The Old Shoe sails very well at 3 knots boat speed in 18 knots true, with the sails fully reefed…ahh…true sailing…everyone knows a sailor without a reef is not a sailor ..hence the Old Shoe has at least 3 reefing points ..most for looks, as above 20 knots, the Old Shoe owner is already motoring, but hey ..good conversation subject ..Especially here.
The Old Shoe, is not an Old Shoe without a (preferably wooden) Cutty Sark type bow Sprit, with at least 3 anchors, and preferably with lot of 1800's style wood work, and complicated engravings….the hull, normally, comes in 10 inch thick fiberglass, because composite technology didn't arrive to all corners of the World, and in the old days, manufacturers didn't have materials and technology to design light solutions, so they had no other option that to spend week after week laying fiberglass over fiberglass, until a good one foot thickness was achieved ..ahh everyone knows a thick hull is good…not for sailing but for everything else ..almost forgot…if the hull imitates the hull planks ..then we're golden….I love those 70's fake wood station wagons anyway…(remember them?)
The Old Shoe, can not be an Old Shoe without a full keel, preferably 5 feet thick, in case one hits a whale, and a rudder behind all that ..because everyone knows sunk containers are sneaky…and target rudders…problem is…weight ..but who cares?? a respectable Old Shoe has at least 8 to 15.000lbs ballast, because everyone knows that in a storm, That is what saves lives.
However, because of the keel, the boat doesn't sail, but who cares ..the Old Shoe has big powerful Diesel engines anyway.
The Old Shoe is easily recognized by the small thick one diameter mast, (no wonder, the keel is just for looks and to be used as an anti whale weapon), and a small main, only because if they didn't have one, everyone would look at them and say: "That's not a sailboat".. so ..a small preferably roller furler main is a must, it looks good too..
The Old Shoe is ideal for Oceanic passages especially for people with a lot (and here, I mean a lot) of time, as everyone knows, an Atlantic crossing of 24 days in a sailboat, is normally done in 60 on an Old Shoe ..but hey!!! We are protected against a storm..
Ideal to live aboard, and to sail (motor) up and down the ICW, the Old Shoe is the favorite boat here at Sailnet..(Sailnet is thinking about changing name to Old Shoenet)…and start selling Martha Stewart and Home Depot catalogue stuff instead….
Inside....ahh inside the old shoe breaths sailing atmosphere, has to..with all that sailing performance wood........ the Old Shoe is clearly a "house", most don't sail anyway, and have lots of paintings, oil lamps, books, sailing memorabilia, from the days of sailing, more books, ovens, heaters, dishwashers, washing machines, rats, snakes, etc…all clearly needed sailing stuff.…
they have lots and lots of little doors and panels, all in 4 inch thick solid wood off course, that are called storage space…big diesel tanks too…since that is the main locomotion agent…
They have 345 hand rails, and safe bronze 10 inch thick robust windows.
The bunks are small (everyone knows small means safer), because they have no space to put beds with all the crap they load the boats with..but hey, small beds are seamanship features…
The Old shoe is normally richly ornamented with hand carved wood panels that enhance the boat's sailing qualities... and reduce the noise caused by the engine, when sailing.
There is more, but normally, the Old Shoe is a non sailing sailing boat ..does it make sense??
Remember....many companies today still manufacture the Old Shoe, but nothing better than a 1945 Old Shoe…ahh nothing like sailing at 2 knots in a 30 knots wind..the older the shoe..the better.
They are excellent to cross oceans, and resist storms, but sailing…..well..we leave sailing to the plastic fantastics…
No particular boats aimed in this description…if you have an Old Shoe, good for you…me?? I rather sail.
EDIT for the weak hearts:
OLD SHOE HAS NOTHING TO DO WITH BOAT AGE...IT's THE STYLE AND TYPE OF BOAT...OK???
you can have an old (as in aged) boat that is not an Old Shoe, and you can have an Old Shoe, built in 2008. get it?
.