Discussion Starter
·
#1
·
This is my first year owning my first boat and I am trying to prepare myself for negotiations with the yard on bottom painting. The boat is a 1990 Clearwater 35' sloop as I have mentioned in other threads. The bottom was last done in 2005 with a signal coat and two top coats of Micron CSC. However, up until May of 2008 it was only in the water from May to October, then hauled and dry stored. They did touch up painting every year before launch. I purchased her last May and sailed her from CT to the Sassafras River where she stayed thru last summer. I had her hauled in Sept and the bottom cleaned before our trip to NC. Here are a couple of shots of the bottom at that time;
The first of the bow half cleaned,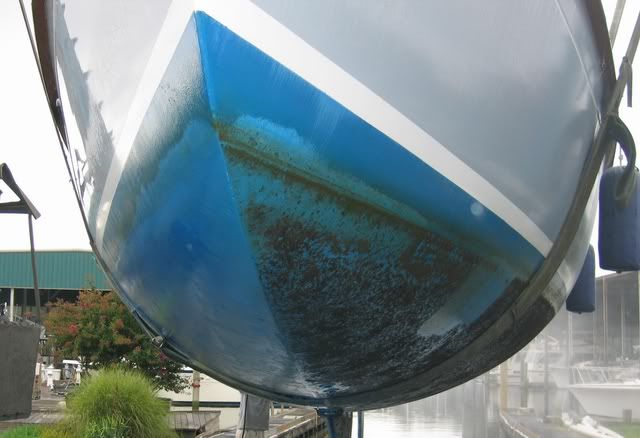 And a shot of the swing keel section after power washing;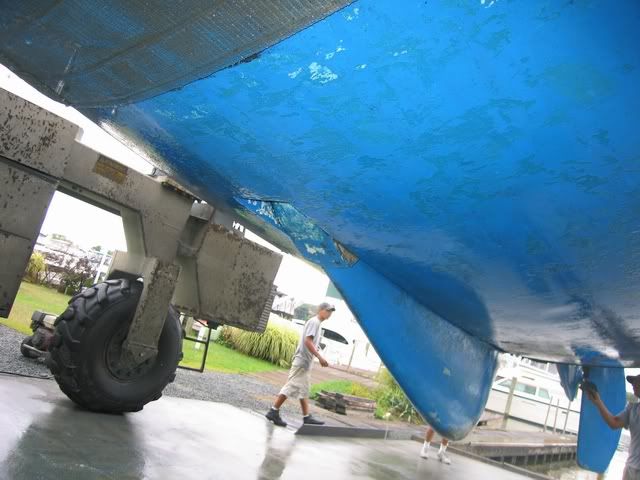 She came pretty clean easily and we motored and sailed her to NC and then up until early December with no noticable issues.
She has set in the water at our dock in NC since last fall. She is starting to show some growth buildup and just by the length of time since the last painting I am thinking she is going to need a bottom paint job sometime by the end of this season. Now come the questions:
How will I know if she needs a new signal coat or just top coats? Or should I just assume they should do all three layers anyway? Micron CSC advertises that you don't need to remove old layers to add new ones. So does that mean just a rough up sanding is needed to improve adhesion and the three coats would go on top of what is there? I really don't have the equipment to do it myself and I don't want to waste several gallons of $200/gallon paint learning how to do this right, so I wil ask the yard to do it. But I don't want to get taken either, so I am just trying to figure out what is a reasonable process for maintaining the bottom. I am not into racing, so it does not need to be a the smoothest bottom. In other words, I don't want them to remove everything down to the glass, but on a barrier coat and then add bottom paint if I don't really need to do that just to maintain and sail the boat. And I am looking for some comments on why that is either the right or wrong decision.
thanks,