Discussion Starter
·
#1
·
Record June temperatures and only a few rainy days in all of July and August set the stage for one of the warmest summer conditions in BC waters ever. We did our usual 6-7 weeks, interrupted this time for a one week trip into the interior for family stuff.
Water was swimmable virtually everywhere. We hooked up with a large group of our club and traveled with up to 13 boats at times, making for some nice large raft-ups. We also took in the festivals at Comox over the August long weekend - a hard-to-beat combination of a city nautical festival and the quite well known Filberg Festival for a knock-out menu of live music, arts and crafts, and on-the-water events. With the large group there were many happy hours and potlucks. Overall it was a great summer trip even though in Desolation this year there was either no wind or near gales, with little in between.
We did have good conditions for coming back into the Gulf Islands, and had some great sailing in the last week.
Possibly the highlight of the latter part of the summer was receiving a VHF hail from "Laurie-Ann" - Sailnetter
jrd22
- on a whim John gave us a call, and when we responded it turns out they were less than a mile ahead of us just off Pender Harbour, where we'd both spent the night but missed seeing each other. We talked them into stopping for lunch on Texada, and we had a great afternoon get-to-know before they headed off to Jedidiah Island for their first time. John is indeed the gentelman he appears to be on Sailnet and we had a very nice visit with he and Laurie. We did see them again in passing a few times in the remaining week.
Some pictures: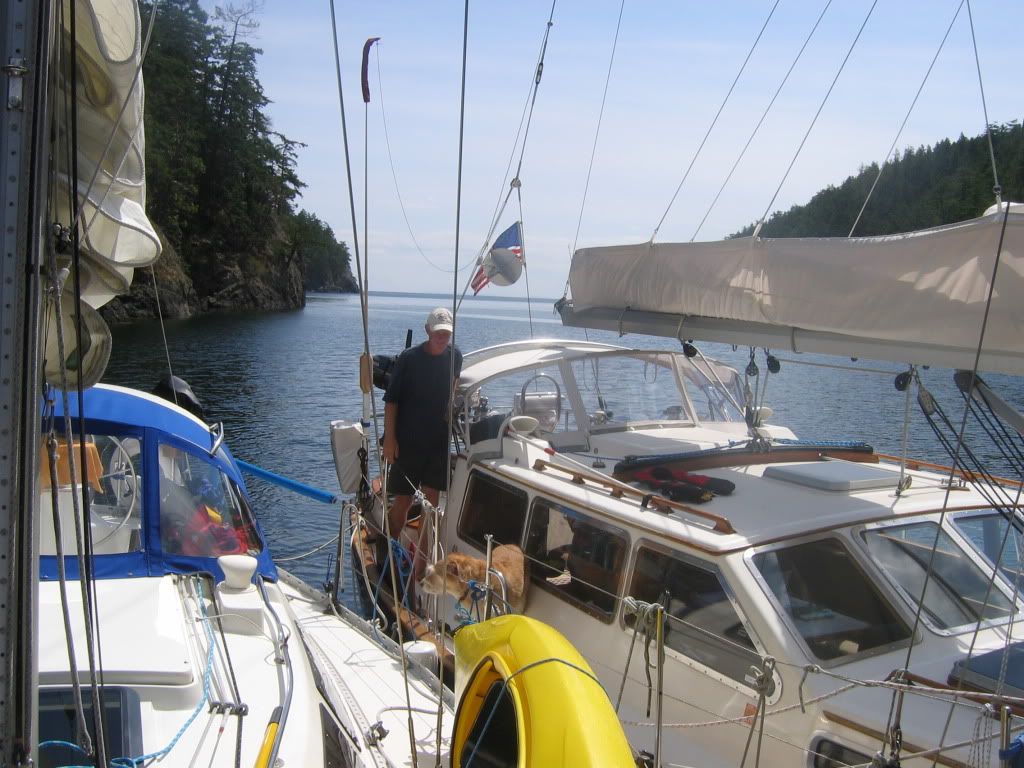 Rafting with Laurie and John at Anderson Bay, Texada
Tucked into our favourite hideyhole at Jedidiah Island again
An amazing natural sandstone feature in Tribune Bay, Hornby Island
A tranquil evening at anchor. Tribune... the nearest boats are only in 15-20 foot depths!
Possibly due to warmer waters, but we found the moonjelly population exploding this year.
Petroglyphs at Walsh Cove, Desolation Sound
And finally, a couple of our club raft-ups: