Discussion Starter
·
#1
·
I recently became the owner of an '82 Catalina 27. I'd like to reseal my leaking portlights, but I'm not sure how. I know there are a gazillion leaky portlight threads, and I've read a lot of them, but there are so many types and so many approaches that I feel completely stupid about the whole thing. I've never even seen a portlight apart, and I don't know what I'm supposed to be doing.
These are not the best photos (they're all pulled from crappy cell phone video, which is all I have on me at the moment) but maybe this will give an idea of what I'm working with: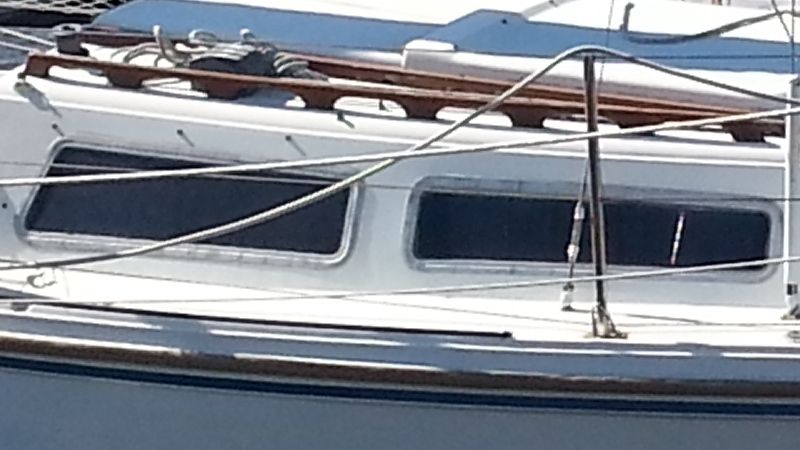 They're all fixed lights with aluminum rings. I'm guessing that if I unscrew those machine screws from the inside, the inner aluminum ring will come off, then then maybe if I run a putty knife around the outside aluminum ring, I'll be able to get the window out?
The
Catalina Direct reseal kit
comes with two kinds of replacement gaskets (38 feet of extruded "U" shaped vinyl glazing channel fits between the glass and frame and 38 feet of extruded vinyl window molding for the frame inside the boat) and a couple different types of sealant, including a "gray silicone" and a "white polyurethane."
I like the idea of using a kit, and am willing to pay the premium to get the right amount of the right stuff, but I used to do guitar repair work and I have a preternatural hatred of silicone. Additionally, all of my previous attempts at using the typical marine sealants have gone exceedingly poorly.
On the other hand, I
have
completely and joyfully immersed myself in the Cult of Butyl.
So I guess my question is something like: With these kinds of windows and gaskets, can I use butyl tape where I would have otherwise used the gray and/or white goos? Or should I just bite the bullet and do it using Catalina Direct's [presumably] time-tested technique?